Avante Solutions Ltd are at the forefront of daily freesheet newspapers and street sales.
We are a consultancy and supply company established in 2006 as the business enterprise of Peter Gibbons who, having worked in the national newspaper industry for 40 years, is a leading authority on all aspects of newspaper logistics, including distribution, street merchandising, and marketing. The company played an integral part in the set-up and distribution schedule of News International's thelondonpaper, launched September 2006 and successfully averaged an ABC of 500k per day.
Among our satisfied clients are News International, The Economist, Sure Field Marketing Ltd, Innoventive Ltd.
We have the knowledge and skills to help publishers of both free and paid-for newspapers and magazines to distribute on city streets through merchandisers. Our expertise is not limited to any single area of the industry as our experience is wide-ranging and our breadth of knowledge can be applied to any field of the industry that clients require.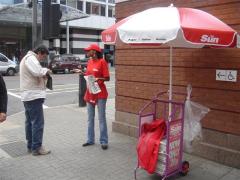 Our customers include leading national newspapers, freesheets, and field marketing and merchandising companies.
Avante Solutions Ltd would welcome the opportunity to solve your problems.
Avante Solutions Ltd
Landline: 01525 852885
Mobile: 07449526108
p.gibbons@avantesolutions.co.uk